Welcome!
About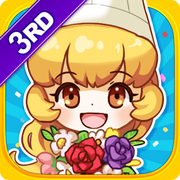 Welcome to the I Love Pasta Wiki!
A wiki dedicated to everything about the app I Love Pasta created by PATI Games Corp.. Help us by creating or editing any of our articles!
We're currently editing over 14 articles since June 1, 2016.




Update Notice
[7/7 Update Notice]

Chef!
A maintenance break is scheduled tomorrow!  :) Check the details below and prepare for the tomorrow's update! ♥

■ Maintenance Period : 7/7 (Fri) 10:00 ~ 12:00 (GMT+9)
■ Update & Event

1. Seafood Festival! (~7/26 24:00) (GMT+9)
- Get the event item 'Scallop' as you play the game~
- Collect 'Scallop' and exchange them for rare Items smell sea!
- Feel summer on this occasion!
※ You can collect 'Scallop' until 7/26 24:00 (GMT+9).
※ Exchanging 'Scallop' is available until 7/27 24:00 (GMT+9), Don't be late.

2. Additional store expansion!
- Do you want to expand your store a little bit more? MAX limit of store expansion increases!
- Even in case of you already met the MAX limit on your store expansion, you can expend your store additionally!
- 30% off price on additional store expansion! (7/11 24:00)(GMT+9)

3. SS-class manager 'Captain Nemo' release
- SS-class manager 'Captain Nemo' is newly added.
- Hiring Price: 3 days = 24 Coupons / 3 days = 36 Cash / 7 days = 64 Cash / 15 days = 102 Cash
- Skills: Collect at once, Having social dish without any visiting, Writing Fan letter without any visiting, Dish Machine/Wine cellar installation limit +3 each
※ Increased Machine and Wine cellar through manager skills will be moved to the Inventory after the manager effect disappears.
※ Hiring Lv.33 or more is available as per social dish unlock level.

4. Purchase Event (~7/27 24:00) (GMT+9)
Event A) Get 2000 Blocks upon the purchase of 53 Cash (53 Cash Only)
Event B) Get Ocean wine cellars upon the purchase of 600 Cash / 1,300 Cash
- 600 Cash: Ocean wine cellar x2
- 1300 Cash: Ocean wine cellar x4
Event C) 'Sun flower' Lucky Bebe
- Get 'Sun flower' Lucky Bebe with purchasing more than 110 Cash
※ 'Sun flower' Lucky Bebe includes additional option of 'Block obtain x2 buff'

5. Special Package (~7/27 24:00) (GMT+9)
- Package includes: 3 sets of S-Class Tropical avatar parts(outfit+hair) + Free 10 cash
- Color: Brown, Black, Pink(hair)/Yellow, White, Navy(outfit)

6. Ocean Theme/Lucky Box re-released (~9/7 24:00) (GMT+9)
- Ocean Theme re-released! Good for summer!
- With this event, 30% off Price on ALL Ocean Theme items for a week! (~7/13 24:00)(GMT+9)
- Feel summer! with my own Aqua Guarden, Ocean Table, Ocean Chair, Ocean tile and so on.
- 30 Cash Only for New Ocean Lucky Box! Get gorgeous items you can catch only in Ocean Lucky Box!

7. Other Fixes
- Banner Combination – Combining Pop-ups into one as logged-in
- Consecutive Attendance Rewards Renewal (Manager Coupons and Blocks added)
- Purchasing System for the limitation on writing Fan letters is added. (3 Cash per Once)
- Low level buff is increased (x2 -> x4)
- Popular user reward is increased (10 Block -> 30 Block, 2 Cash)
- Loading image changed to Summer Theme.

Community content is available under
CC-BY-SA
unless otherwise noted.